Zhejiang AMA Shengneng Technology Co., Ltd. is a professional enterprise engaged in the design, manufacture, sales and after-sales service of energy-saving air source heat pumps, water heaters and precision electronic connectors, with more than 400 employees and 20,000 square meters of plants, and more than 130 special dealers and offices established throughout the country. The certifications obtained include UL certification; CQC voluntary certification; CCC mandatory certification; CE certification; SGS environmental certification, etc.
Relying on sound organizational structure and perfect modern enterprise management system, AMA Shengneng has developed into an international enterprise group featuring cross-region and cross-industry.
User sites.
1、Air source heat pump units and other equipment need to quickly recover the refrigerant in the unit during maintenance.
2、400L refrigerant cylinders, initially there are about 20 bottles of residual liquid need to be recycled every month, 40-80kg of refrigerant per bottle, hope to recycle and reuse to maximize the saving of production cost.
Requirements.
1、The recovery speed should be high enough to meet the demand of rapid recovery of refrigerant at the production site.
2、No secondary pollution to the recovered refrigerant cylinder residue.
3、Good quality and high cost performance.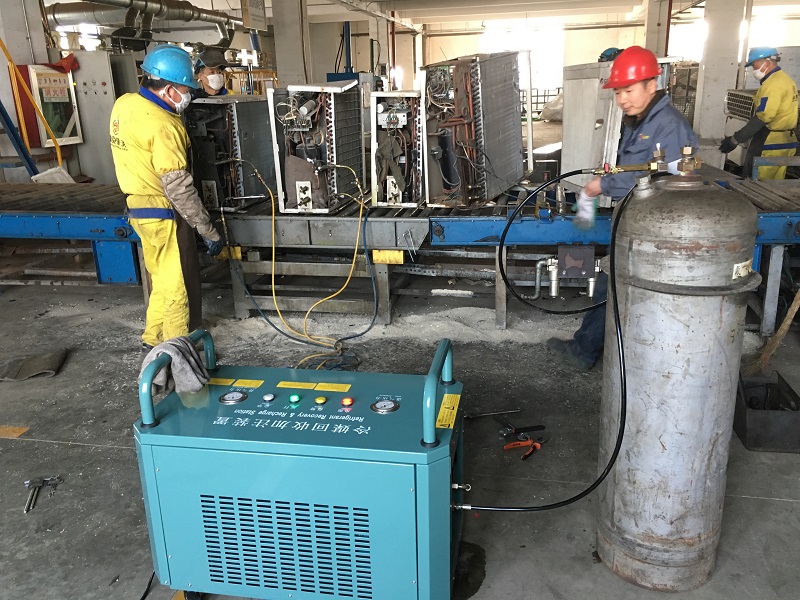 The final solution: Chunmu CM5000 refrigerant recovery machine is selected, with fast recovery speed, gaseous recovery speed ≤ 60kg/h and liquid recovery speed ≤ 240kg/h. Meanwhile, the oil-free compressor configuration is pollution-free for 400L cylinder residue recovery, and the equipment is maintenance-free at the same time, which can bring maximum benefits to users.